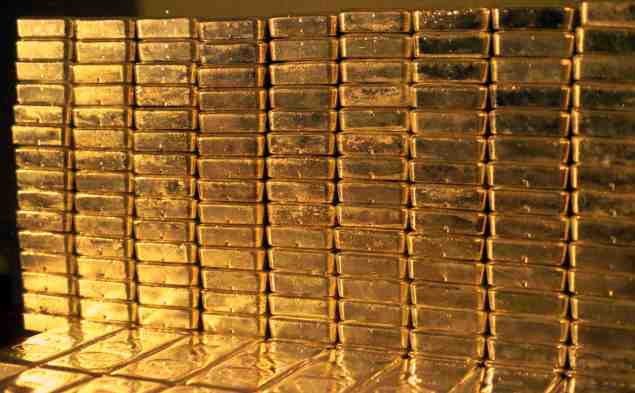 Argentum et aurum comparenda sunt
Do not be fooled by the picture
The above bars look like gold but are in fact silver bars. When I took the picture back in 1974/75 my photos came out with silver looking like gold. Today I believe that silver will be a better investment than gold for the next decade-plus.
Considering that the Danish tabloid press called me "The Silver King" I should like to make a few comments about silver, on which I was an expert. Although, that I for 47 years ago told most of my favourite clients to buy palladium first and foremost. Thereafter, I did believe in silver and thereafter platinum and rhodium. I had considerable difficulties to convince our client to buy Palladium at USDollars 41-43 an ounce, now trading at over US Dollar 2000 an ounce. The whole concept of the "silver king" was a tabloid creation, although, I could have been a true silver king if the Danish Special Prosecution (Bagmandspolitiet) did not follow the instruction of the prime minister and close my companies and bring fear into the Danish investment population. 
Watch out for manipulations at the exchanges
The silver market has always been dominated by short-sellers, most professional hold short positions; in fact, this is not just traders in the silver market but also other commodities. The professional traders most of the time make money; this is their livelihood and business. So they will sell something they hope to buy later at lower prices since their experience tell them this has worked most of the time in the past. All my money and profitable trades I had made at the time through ten years was being on the short side, both in shares, gold and silver. I went short in silver in late 1979 – relative big -as I knew the floor brokers was short with 7-8000 contracts, so when silver exploded, I felt OK and indeed after the 15th January 1980, I had the short-selling guaranteeing a huge profit by the decision of the US Exchanges, I as standing to make 50-100 million Dollars. what I did not know was that Bagmandspolitiet was listening to all my telephone calls, they and large investors who were long in silver wanted me out of and isolated in prison. I was on the other investment side, the opposite, to the Hunt Brothers in Texas and the Saudis – all long in silver. Who knows, I could have made not a 100 million but possible 500-600 million dollars at the time. Such an opportunity in one's life is truly rare.
As to manipulation, it is when someone controls and dominates the market by means of an excessively large position. By holding such a large concentrated position, the manipulation is largely explained. In real terms, whenever a single entity or a few entities come to dominate a market, all sorts of alarms should normally be sounded.
Price manipulation is the most serious market crime possible under commodity law. In fact, there is a simple and effective and time-proven antidote to manipulation that has existed for almost a century, and that solution is speculative position limits. Currently, the Commodities Futures Trading Commission (CFTC) in the US is attempting to institute position limits in silver, but the big banks are fighting it tooth and nail.
As far as any benefits the manipulators may reap, it varies with each entity. But if you dominate and control a market by means of a large concentrated position, you can put the price wherever you desire at times, and that's exactly what the silver manipulators do regularly. This explains why we have such wicked sell-offs in silver; because the big shorts pull all sorts of dirty market tricks to send the price lower.
Under U.S. commodity law, the names of individual traders are kept confidential. However, it is no secret that the commercial traders are the big shorts. It is also no secret that these big commercial shorts are mostly money centre banks and financial institutions. Based upon government data and correspondence, the largest such short almost certainly is JPMorgan Chase & Co.
Together, the eighth largest commercial silver shorts on the COMEX generally account for more than 50% of the entire net COMEX silver market, with JPMorgan alone holding around 25% or more of the entire market. Such large holding does constitute manipulation and there no comparable concentration on the long side; only the short side of silver.
The current mechanism they use to suddenly rig the price lower is High-Frequency Trading (HFT). This is the placing of sell orders in great quantities by computer programs that suddenly appear as legitimate orders, but are really mostly "spoofs," or orders entered and cancelled immediately (in the fractions of a second). When the sell orders first appear, they spook others into selling as they give the appearance of great selling about to hit the market. Instead, it is all a bluff, intended only to scare others into selling, as the vast majority of these original sell orders are never executed, nor were they ever intended to be executed. They were designed for one purpose only – to scare others into selling.
Through HFT, the commercials are able to push prices suddenly lower on very little actual volume. But once prices are put lower, the outside selling (from those who are frightened by the drop in prices) hits the market. It is that outside selling from technical traders that the commercials then buy. In a nutshell that's the HFT scam in silver.
It is important to grasp the fact that the actual selling (and commercial buying) takes place after the price drops. Most people think great selling is what causes the price to decline, but that's not true. The great selling only comes in after the price has been put lower, which is the purpose behind HFT in silver.
There are two distinct forces exerting artificial control of the price of silver.  One is the concentration on the short side of the COMEX. The other is the ascension of the mindless and destructive computer trading of HFT.
The difference in HFT is how the regulators react to it. When it occurred in the stock market, the regulators, the SEC and CFTC, rushed to make sure such meltdowns didn't recur in the stock market.
Instead, the HFT practitioners were given free rein to disrupt the silver market many times.  All the big sell-offs in silver are related to HFT to aid those holding large short positions.
The simple and undeniable fact is that the commercials are always big buyers whenever gold and silver sell off sharply. These commercials trick others into selling after prices have been deliberately pushed lower. Because the commercials are always the big buyers on every big sell-off, that proves they are rigging the price, as it is not possible for them to always be the buyers on these pre-arranged sell-offs.
There is so much more paper silver traded than physical silver
The trading in paper silver is nearly 150 times more than the amount of mined silver. Investors who hold physical silver don't buy and sell often; they hold. Only paper silver holders, because they only put up a fraction of the full value as margin, can be regularly tricked into selling their paper contracts on price declines. The big commercial shorts know this and that's what the game is all about – taking paper long traders to the cleaners.
Also, there is more paper traded than real silver because there is a very limited amount of real silver and an infinite supply of paper silver. It's important to know the difference and that difference is what makes physical silver superior to any paper alternative.
Conclusion
There is manipulation in effect in silver, but that manipulation must be viewed cold and hard. The manipulation has caused silver to be priced much cheaper than it would be otherwise, even back to the sixties when this manipulation was caused by the US Government.  That makes silver a better buy. The silver manipulation also will end one day, as all manipulations throughout history have ended. Given the nature of these things, the price of silver will be much higher when the manipulation ends. This offers investors a great opportunity. Firstly, a cheap price to buy at than would otherwise be the case and, secondly, a much higher price to sell at once the manipulation is ended.
My last advice, the best approach is to put cash on the table and pay in full for whatever silver you buy; no borrowing or margin. This enables you to stay with it for the long term and ride out the inevitable price volatility. Think long-term, the long play is the best play.
Finally, if I have the opportunity, I will add to these comments about silver from time to time.
Can Physical Silver Change Your Life?
As the world heads towards an inevitable economic crisis resulting from an ever rapidly global debt bubble, speculation abounds within elements of the investor community that ownership of physical silver will have the ability, in the midst of the crisis, to change people's lives potentially on the scale of the 2011 – 2017 price explosion of Bitcoin.
Such is the optimism among some silver investors that price forecasts ranging from $US 40 per ounce to over $US 1000 per ounce are now publicly discussed openly on the internet which is well in excess of its current price of approximately $US 13.50 per ounce.
Interesting analysis by John Adams 16 April 2020: The Undeniable Manipulation of the Silver Market 
Investors are betting on a rally in silver
Latest 6 May 2020 (Taken from Financial Times and Theconervativeinvestordaily.com)
Investors are betting on a rally in silver after the gap between gold and the industrial metal soared to its widest level in more than three centuries.
In March (2020) the price of an ounce of gold was 125 times higher than the same amount of silver — a record going back to at least 1687, according to data compiled by Ross Norman, a veteran gold trader.
But since then the gap has closed to about 113 times, and analysts say more gains for silver are possible, as economies start to recover from the shock of coronavirus-related lockdowns and demand returns for use of the metal in electronics and solar panels.
"The longer gold keeps having a good performance you will get speculators . . . who will go 'oh silver is really cheap'," said Grant Beasley, a fund manager at Highbury Capital in Toronto. "It's not the most complicated argument but it's true. As the speculative fever increases retail investors will go crazy. And then when they're feverish you're close to the top."
Silver prices dropped to an 11-year low of $11.62 a troy ounce in mid-March, but the metal has since rebounded to trade at $15 as holdings of silver-backed exchange traded funds hit a record high this month of 675m ounces.
Analysts at Bank of America predict silver could rise to $20 over the next 12 months as economic growth rebounds. In the wake of the 2008 global financial crisis, silver rallied 440 per cent from its bottom to $48.44 a troy ounce in 2011.
Gold has risen by 11 per cent this year to about $1,690 a troy ounce, driven by investor demand for the traditional haven asset. Holdings in gold-backed exchange-traded funds rose seven-fold in the first quarter to a record high of 3,185 tonnes in March, according to the World Gold Council.
The recent rally in the yellow metal was a sign of "deep anxiety about the global financial system", said Mr Norman. In Alexander, the Great's time the silver/gold ratio was about 12 to 1 and an inscription from the Karnak temple in ancient Egypt reports it as 13.3 to 1.
"Gold's safe-haven status is coming to the fore," he said. "Normally you'd expect silver to come along for the ride."
About half of silver demand comes from the industrial sector, including the car and solar power industry, which has made it more vulnerable to the economic effects of coronavirus. Solar power projects are being delayed while the electronics supply chain has been hit by weaker consumer demand.
Analysts at Metals Focus predict that industrial demand for silver will drop by 7 per cent this year, with declines across all industries.
That is unlikely to be offset by shutdowns of silver mines in Mexico, Peru and Argentina, leaving a surplus of 14.7m ounces this year, they forecast.
Suki Cooper, an analyst at Standard Chartered, said silver tended to need solid demand from both investors and industries to outperform. That may not happen until later this year, she said.
Still, for many investors silver is too cheap, even given the Covid-19 slowdown. Ian Williams, chairman of the Charteris Treasury Portfolio Managers fund, said silver was just as good as gold as a hedge against inflation.
"You can go back 3,000 years before Christ — silver has never been this cheap relative to gold," he said. "There's no justifiable reason."
Silver miners offer more upside to a rising price than gold miners, according to Mr Beasley. Many miners needed a price of just $17 to break even, he said. "When silver really starts to take off, the . . . returns in silver versus a gold producer are two to three times," he said.
Among the biggest gainers in the sector so far are First Majestic Silver, a Toronto-listed miner whose shares rose by 29 per cent last month, roughly double the rise in the Canadian benchmark.
Last week Canadian mining billionaire Eric Sprott made his biggest personal investment in silver, buying a C$60m ($42m) stake in Toronto-listed explorer MAG Silver.
Enthusiasts note that the metal is used in clean-energy technologies that are set to see growing demand such as electric cars and solar panels. It is also used in 5G mobile infrastructure and in radars for autonomous vehicles.
New usages are emerging too: in March Samsung announced a new lithium-ion battery that uses a thin layer of silver-carbon material rather than graphite on its anode.
"Because silver has such a wide range of applications when one slows there's potential for another to pick up," said Philip Newman, an analyst at Metals Focus. "The range of applications argues for a very strong future."
---
For people who have an interest in the above, I recommend to follow these websites:
The Silver Institute   ( http://www.silverinstitute.org/site/)
The Silver Institute is a nonprofit international association that draws its membership from across the breadth of the silver industry. This includes leading silver mining houses, refiners, bullion suppliers, manufacturers of silver products and wholesalers of silver investment products. Established in 1971, the Institute serves as the industry's voice in increasing public understanding of the many uses and values of silver.
Silver Wheaton (http://www.silverwheaton.com/)
Established in 2004, Silver Wheaton has quickly positioned itself as the largest metals streaming company in the world. The company currently has fourteen silver purchase agreements and two precious metals agreements where, in exchange for an upfront payment, it has the right to purchase all or a portion of the silver production, at a low fixed cost, from high-quality mines located in politically stable regions.
Based upon its current agreements, forecast 2012 attributable production is approximately 27 million silver equivalent ounces, including 16,500 ounces of gold. By 2016, annual attributable production is anticipated to increase significantly to approximately 43 million silver equivalent ounces, including 35,000 ounces of gold. Beyond the initial upfront payment, no ongoing capital expenditures are required to generate this growth and Silver Wheaton does not hedge its silver production.
Silver Wheaton's industry-leading growth profile is driven by a portfolio of world-class assets, including silver streams on Goldcorp's Peñasquito mine in Mexico and Barrick's Pascua-Lama project straddling the border of Chile and Argentina. The company's unique business model creates significant shareholder value by providing leverage to increases in the silver price while reducing the downside risks faced by traditional mining companies. Silver Wheaton has an experienced management team with a strong track record of success and is well-positioned for further growth.
I should like to finish with a poem about silver:
Slowly, silently, now the moon
Walks the night in her silver shoon;
That way, and that, she peers and sees
Silver fruits upon silver trees;
One by one the casement catch
Her beams beneath the silvery thatch;
Couched in his kennel, like a log,
With paws of silver sleeps the dog;
From their shadowy cote, the white breasts peep
Of doves in a silver-feathered sleep;
A harvest mouse goes scampering by,
With silver claws and silver eyes;
And moveless fish in the water gleam,
By silver reeds in a silver stream.